Top posting users this week
Top posting users this month
Who is online?
In total there is
1
user online :: 0 Registered, 0 Hidden and 1 Guest
None
Most users ever online was
13
on Wed Jun 19, 2013 5:16 am

[size=31]Move Your Caches to a RAM Disk to Reduce Wear on SSDs[/size]

159,378
1

[size=17]Whitson Gordon
Profile
Whitson Gordon
Filed to: HARD DRIVES
[/size]
[size]
6/10/10 11:00am
[/size]


Share to Kinja


Share to Facebook


[url=http://twitter.com/share?url=http%3A%2F%2Flifehacker.com%2F5560281%2Fmove-your-caches-to-a-ram-disk-to-reduce-wear-on-ssds%2F%2Bwhitsongordon&text=Move Your Caches to a RAM Disk to Reduce Wear on SSDs]Share to Twitter[/url]


Go to permalink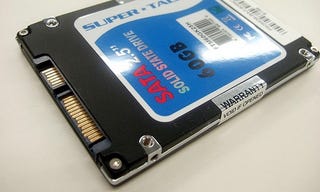 EXPAND
We've seen the speed benefits of Solid State Drives (SSDs), but they also have the downside of a more limited number of writes. Technology blog Ghacks shows us how to increase an SSD's longevity by moving oft-written caches to a RAM disk.

Boot Ubuntu 9.04 in 18 Seconds (With a Solid State Drive)
Google webspam wrangler Matt Cutts treated himself to a solid-state hard drive—the kind made from…Read more
Photo by Yusuke Kawasaki.
The constant writing and erasing of caches and other temporary folders on your computer will wear out your SSD faster, so one way to get as much life out of your SSD as possible is to move these folders somewhere else. If you have a regular hard drive installed alongside your SSD, you can move those caches to the magnetic drive, but if your computer is only running on an SSD drive or drives, you'll have to be a bit more creative.

How to Install a Solid-State Drive in Your MacBook
Solid-state drives (SSDs) come with all kinds of perks over your standard hard drive, not the least …Read more
Ghacks has put together a guide to not only moving these caches (for anyone interested in doing so), but shows you how to turn some of your RAM into a storage device called a RAM disk. If you have a good amount of RAM in your system (around 3 or 4 GB should be fine), you can save your caches there instead, thus saving your SSD the constant writes and erasures. Hit the link for the full guide, and share your SSD optimization tips in the comments.
Use a RAM Disk to Reduce Writes on Solid State Drives [Ghacks]

_________________
Roelof Bakker
Admin & Forum Owner
IT.Internal.blog@gmail.com

---
Permissions in this forum:
You
cannot
reply to topics in this forum